While I have made a lot of progress on the apartment, the living room is pretty much at a standstill from my last post about the living room "transformation" (aka hanging curtains).  The living room has pretty much turned into my work-space, where I sand, spackle, buff, prime, and paint.  I've been logging some serious hours painting the bedroom furniture (armoire and nightstands) and since I'm putting in the time, I've decided to replace the hardware.
I don't think I mentioned it before, but this furniture belonged to my grandmother, so obviously I adore it for sentimental reasons, but also just love the look.  The pieces have very classic lines and lovely details that you just can't find anymore.  They are sturdy and gorgeous, however the original hardware was NOT gorgeous.  They looked identical to these:
That said, the handles left the drawers with two holes, and though I hunted high and low for different pulls, my grandmother had splurged for custom size handles… what did this mean for me? It was going to cost me some serious money to custom order 14 individual handles in varying lengths.
Solution?? Plug the holes… and get updated single knob pulls like this: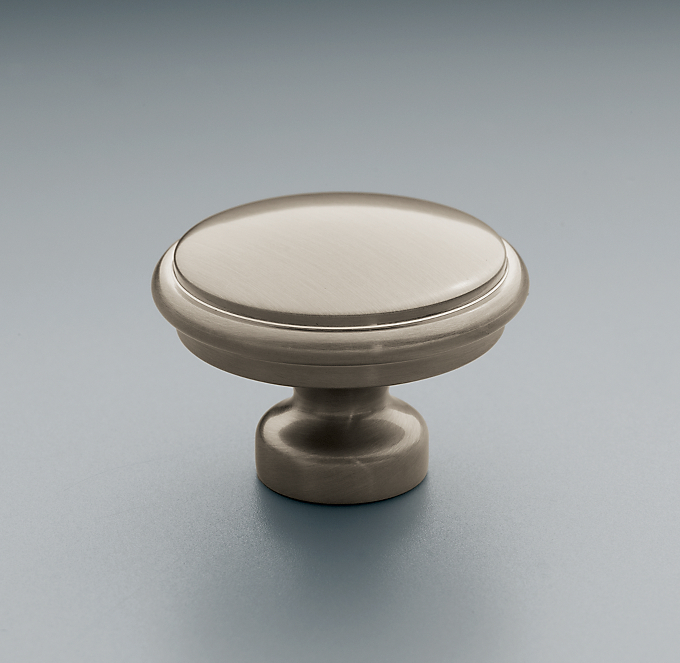 Thus ensued my Tim the Toolman Taylor escapades in the living room.  That said, the project is nearing the finish line which means that the armoire, both nightstands, and all twelve drawers will no longer be hanging out in the living room.  Hooray!  I've got one more nightstand and the armoire to sand and paint, but it should be an quicker process than the drawers! (knock on wood)
So once the bedroom furniture project is finished… then what? Great question… once it's finished and back in the bedroom, I get to have fun finishing the living room.  Much of the big pieces are in place, but its the little touches, that need some work.  One thing that has really started to bug me is the rug.  We have a lovely rug in there right now, but its just too small for the scale of the room.  New rug is a must, and I am loving the more contemporary lattice patterns (shocker, right?!)  I spent some time putting together an inspiration board for the living room, and while there are a few things that can (and probably will) change, I think this is pretty close to what the finished product will be:
My goal here was to keep the focus on how light and airy the room is.  I'm sticking to a palate of light colors – tans, grays,  yellows, and creme.  The best part? Many of the things in my inspiration board, we already have!
The coffee and side tables came as a set, and are made of dark black brown wood – very similar to the table in the photograph.  Nothing earth shattering going on there, but the set is sturdy, functional, and there is enough modernity to appease my better half.
The sofa – right now, my love seat is a two cushion version of the below, and we have been on the hunt for a second larger sofa to replace Kris' love seat from his bachelor days.  When I first moved to the city, my mom gifted me lamps identical to the brushed aluminium below – classic and simple, and I still love them 5 years later.
As I mentioned before, I got four panels of silk curtains from Bed Bath & Beyond (a total steal), and we ordered this exact painting from Ballard Designs.  I'm actually a bit embarrassed to admit we ordered art online without seeing it in person, but it really is gorgeous.  For the size and quality, this "painting" looks amazing – even better in person than online.  Trust me!
x
My desk is one of my greatest scores – I needed a vanity at my old apartment (when it was just me, and I could be as girly as I wanted), and found this amazing Crate and Barrel desk on Craigslist.  Yup.  Fifty bucks later, it was mine!  I'm not going to lie and say that Craigslist is chalk full of amazing finds – you have to hunt in order to find the hidden nuggets of gold, but they are there.  "Why would someone sell a perfectly good brand new desk from Crate and Barrel?" one might wonder.  In this case, the girl I bought it from was moving cross country, had just bought the desk a few months prior, and didn't want to pay to ship all her furniture to the east coast… her loss = my gain!
As for those candles – aren't they cool?  I had seen them at Cost Plus over the holidays in their "seasonal" section, but in my opinion they are perfect year round.  They are actually wrapped in birch bark, so its not candles made to look like trees – they're actually candles wrapped by tree bark! Ingenious!  I am looking for a small wood crate to hold them in – possibly nesting in moss.  I have them on a copper plate with sand, and its just not right.  At all.
x
So what's left?  The good stuff – fun patterned throw pillows – Etsy is a gold mine here, and my real problem is narrowing it down to which pillows to choose?!  Should they all be different, should I do at least two of each for continuity or is it enough to have them in the same color family?  Should I have the same sets on each couch or mix them up (I am going to mix them surely).  
The owl photographs.  I love them, my best friend hates them.  Should that deter me?  It probably won't.  
The sunburst mirrors – I LOVE, but I do not LOVE the price tag I have seen on most of them in the store (upwards of $300!)  I want a set of 3 so this could prove challenging… to say the least.
So that's it – after visually putting it together, I am more and more excited about this room.  I have renewed energy to finish the bedroom furniture, so we can live in a home… not Santa's Workshop.
Happy Inspiration!
xo